Safeguarding Children
Executive Summary
Information in this executive summary was correct as at 25.08.2017.
Any child or young person can be at risk of neglect, abuse, harm and exploitation regardless of their age, gender, socio-economic or ethnic background. However, the groups outlined below are at risk due to their exposure to a number of factors:
Parental factors
Domestic abuse
Harmful practices (honour based violence, forced marriage, female genital mutilation)
Child sexual exploitation
Being exposed or subject to abuse or radicalisation via technology
Misusing substances and/or alcohol
Experiencing mental health problems
Having a disability
Participating in risky behaviour
Missing children and young people/runaways
Living in poverty and homelessness
Safeguarding children and young people requires a multi-agency approach to early help, children in need and child protection. It is important to take this broad view of safeguarding in order to protect not only those who are already in immediate danger but also to protect those other children and young people who have difficult lives and need support to achieve the best outcomes.
There are emerging risks which Surrey's children and young people may be exposed to, including traditional harmful practices, child sexual exploitation and child trafficking. It is important to understand the prevalence of these within the Surrey population in order to inform the planning of services which may be needed in response to this emerging need.
Current numbers of assessments required by Children's Services Assessment and Intervention teams is putting pressure on the workforce and caseload numbers are high. In contrast to this, caseload numbers in terms of child protection continue to decrease and are below targets. This would suggest that the level of workforce in terms of child protection is relative to the level of need in Surrey.
Multi-Agency working is producing positive outcomes when coordinated well, and practice continues to improve in this area. The establishment of the MASH, made up of a range of partners from the police, children's services, health and early help; the adoption of the Safer Surrey approach across agencies; and the coordination of our approach to safeguarding children by the Surrey Safeguarding Children's Board, are all examples of strengths in this area. The training offer in Surrey is good, but further joined up approaches and opportunities for multi-agency training would benefit the workforce. A joined up approach to outcomes across agencies and a way to measure the impact of interventions would be beneficial.
Introduction
The guidance, Working Together to Safeguard Children 2015, defines safeguarding as 'protecting children from maltreatment, preventing impairment of children's health or development, ensuring that children are growing up in circumstances consistent with the provision of safe and effective care, and taking action to enable all children to have the best life chances'(1). Safeguarding is broader than child protection and it requires actions to promote the welfare of children and young people and protect them from harm. It encompasses a wide spectrum of needs of children and young people from safeguarding, early help to child protection. It is this broad definition of safeguarding that provides the scope for this JSNA chapter.
In addition, the 2015 guidance clearly sets out the joint roles and responsibilities of local authorities, schools, police and health services for safeguarding and child protection. It sends out a clear message that it is everyone's responsibility to help keep children safe. This chapter will provide a joined up understanding of the safeguarding issues and needs of Surrey's children and young people and to support the development of holistic service planning.
Following an inspection of children's services the council was deemed inadequate, and as a result of this ruling the Office for Standards in Education, Children's Services and Skills (commonly known as Ofsted) will carry out monitoring visits and report on the progress made to support further improvements. The Surrey County Council children's change programme is now underway to respond to Ofsted's concerns and the children's improvement plan has been published (2).
The Ofsted report says that Surrey are looking after children in immediate danger, but that our work to protect other young people with very difficult lives needed to improve. So that whilst this chapter focuses primarily on children in need and children subject to child protection plans, it also covers the emerging risks which Surrey's children and young people in general are exposed to.
Who's at risk and why?
In order to safeguard children and young people in Surrey, it is essential that we understand the prevalence of different safeguarding needs, how they are changing and how our provision matches these needs.
Any child or young person can be at risk of neglect, abuse, harm and exploitation regardless of their age, gender, socio-economic or ethnic background. Research has shown that the groups of children and young people described below are at risk due to their exposure to a number of factors. Neglect often co-exists with other forms of abuse or risk factors including domestic abuse, substance misuse, adult mental ill health, child poverty and youth homelessness (3) which means that these risk groups often overlap.
Parental factors
Children and young people most at risk of suffering significant neglect and abuse are those living in families exposed to a multiplicity of problems, such as a combination of one or more parental issues including poor mental health, substance misuse, domestic abuse and learning difficulties or disabilities (4, 5) . These issues can affect the capacity and resilience of parents in safeguarding their children, who may suffer a range of short and long term problems as a result. Parental issues have a significant impact on children's psycho-social development, health, education and wellbeing; the impact of which can be seen in those children and young people who are heavily involved in caring roles (6).
Domestic abuse
When parental substance misuse and/or mental ill health co-exist alongside domestic abuse, the short and long term risks to the child increase (7). Research found a clear co-occurrence between these three risk factors (often referred to as the 'toxic trio') and a major overlap between domestic abuse and direct harm to children, most often physically or emotionally abused, or neglected (8). According to a NSPCC study, nationally 12% of under 11s, 18% of 11-17s and 24% of 18-24s had been exposed to domestic abuse between adults in their homes during childhood (9). The effects can be short and/or long term for children including physical, social-emotional, and behavioural (10).
Traditional Harmful Practices
Harmful practices are particular forms of violence, mainly directed at women and girls, which are often defended on the basis of tradition, culture, religion or superstition by some community members. These are known as 'harmful practices.' Harmful practices are largely carried out without the consent of the girl/woman involved and include honour-based abuse, forced marriage and female genital mutilation.
Forced marriage is forcing someone to marry against his/her will (11). Research estimates that nationally there are around 5,000 -8,000 incidences of forced marriages yearly. Victims are most likely to be females from Pakistani, Bangladeshi or Indian backgrounds and aged under 24 years old (12).
Female Genital Mutilation (FGM) involves procedures of removing part or all of the external female genitalia. It is an act commonly held in particular communities from Kenya, Somalia, Nigeria (north), Sierra Leone, and Egypt in the UK (13). Female genital mutilation can result in severe, physical and psychological injuries or fatality and is a criminal offence in the UK (14).
Sexual abuse and exploitation
A child is sexually abused when they are forced or enticed to take part in sexual activities, not necessarily involving a high level of violence, whether or not the child is aware of what is happening (15). It includes non-contact abuse where the abuser doesn't touch the child such as grooming, persuading children to perform sexual acts over the internet, and having the child look at sexual images (16). According to NSPCC research, over 90% of sexually abused children were abused by someone they knew and the majority of child sexual abuse is committed by male abusers (17). Girls are much more likely to be sexually abused by a male abuser, but boys are equally likely to be abused by men and women (18).
Sexually harmful behaviours can be used to describe children or young people who sexually abuse other children, young people or adults. Research shows that 66% of the reported cases by children and young people the perpetrator was under the age of 18 (19). Most perpetrators target victims known to them, in many cases members of their family (intra-familial abuse). The vast majority of adolescents displaying sexually harmful behaviours are male (20).
Girls displaying sexually harmful behaviours come from particularly chaotic and dysfunctional family backgrounds, with high levels of sexual victimisation and other abuse. Young learning disabled people displaying sexually harmful behaviours are a particularly vulnerable and neglected group.
Child sexual exploitation (CSE) is a type of sexual abuse in which children and young people under 18 are sexually exploited for money, power or status. Children and young people can be tricked into believing that they are in a loving, consensual relationship with their abuser (21, 22). They may be invited to parties or groomed online. Some children and young people are trafficked into or within the UK by gangs for the purpose of sexual exploitation (23,24).
Child sexual exploitation can happen to any child or young person. The Children's Commissioner has identified the following vulnerabilities in children prior to abuse: living in families with parental issues, history of abuse, gang association, learning disabilities, young carer, friends of young people who are sexually exploited, unsure about their sexual orientation, living in residential care, homeless, living in hostel or bed and breakfast accommodation (25).
Being exposed or subject to abuse or radicalisation via technology
Technology can include computers, mobile phones, other electronic devices and game consoles. Using this technology to communicate can increase the risk of children and young people exposed or subject to:
Online grooming is where groomers can use social networking sites, instant messaging apps including teen dating apps, or online gaming platforms to connect with a child or young person. They learn about a child or young person's online profile and then use this knowledge to build a relationship with the individual for the purpose of sexual abuse or exploitation. Grooming online is faster and groomers can remain anonymous by hiding their own true identity, age and gender (26). Increasingly, groomers are sexually exploiting their victims by persuading them to take part in online sexual activity (27).
Child sexual abuse or exploitation online is when abusers persuade or threaten children and young people into sending or posting sexual images or videos of sexual activities on the internet and having sexual conversations. Abusers can then distribute the images or videos with other internet users. This has a long term impact on the victims as they live with the fear that their pictures will be on the internet forever (28).
'Sexting' generally refers to the sending of sexually explicit images by text, email, or through social networking sites. Sexual images of children and young people under 18 are classed as 'child pornography' and they are illegal to have or to distribute.
Cyberbullying includes stealing online identities to embarrass a child or young person; sending threatening or abusive text messages, sexting, creating and sharing embarrassing images or videos, pressuring children into sending sexual images or engaging in sexual conversations; sending menacing messages on social networks, chatrooms or online games (trolling), setting up hate sites and voting against someone in an abusive poll, and encouraging children to self-harm (29).
Radicalisation and extremism – the internet, in particular, social media, is being used as a channel, to promote radical ideas and engage with young people. The government defines extremism as 'vocal or active opposition to fundamental British values, including democracy, the rule of law, individual liberty and mutual respect and tolerance of different faiths and beliefs (30).
Misusing substance and/or alcohol
Nationally, there were 20,032 young people aged under 18 receiving help for alcohol and drug problems in 2012/13, and the use of new Psychoactive Substances (NPS) such as amphetamines (including 'legal highs') and the club drugs mephedrone and ecstasy was on the increase (31). The vulnerable groups include children of substance misusing parents; young people in care; young offenders; homeless young people; persistent truants and excluded pupils; sexually exploited young people as well as those being involved in commercial sex work; teenage mothers and those not in education, employment or training (NEET) (32,33). A survey also indicated that Lesbian, Gay, Bisexual and Transgender (LGBT) were about three times more likely to report having taken illicit drugs compared to heterosexual respondents (34). The impact on mental health and well-being and social functioning and integration is significant (35). There is clear evidence that alcohol consumption in childhood is associated with risk taking behaviours and alcohol problems in adolescence and adulthood (36).The indirect impact on violence, accidents and attempted suicides can lead to considerable injury and occasionally death (37).
Experiencing mental health problems
A 2005 study showed that one in ten children aged 5 to 16 has a clinically significant mental health problem. The most common problems are conduct disorders, attention deficit hyperactivity disorder (ADHD), emotional disorders (anxiety and depression) and autism spectrum disorders. The problem was more common in boys than girls, and it was more prevalent amongst 11 to 16 year olds than 5 to 10 year olds (38).The vulnerable groups include those children and young people who are being abused; misusing substances; looked after children; young offenders; children with learning difficulties and disabilities; teenage mothers; Lesbian, Gay, Bisexual and Transgender (LGBT); children from black and other ethnic minority groups, gypsy and traveller communities, and asylum/refugees; and children who have a parent with mental health problems (39,40).
Young people experiencing anxiety in childhood are 3.5 times more likely than others to suffer depression or anxiety disorders in adulthood (41). The longer-term consequences have found associations with poorer education attainment and poorer employment prospects as well as affecting physical health and social relationships (42,43).
Having learning difficulties and disabilities
The term 'children with disabilities' in this chapter is intended to be inclusive of any child or young person who has a physical, sensory or learning impairment or a significant health condition (44). Research shows that children with disabilities are at significantly greater risk of physical, sexual and emotional abuse and neglect than children without disabilities (45-47). There are various factors which increase their vulnerability such as significant physical and communication needs, intimate care needs, being socially isolated and an assumption that behaviour is an integral part of the child's condition, rather than a response to abuse treatment or a negative reaction to medication (48,49).
The high-risk groups include those children with behaviour/conduct disorders, learning difficulties/disabilities, speech and language difficulties, and health-related conditions as well as deaf children. Children with disabilities in residential care are also exposed to particular risks (50-53). Most research suggests that disabled boys are at greater risk of abuse than disabled girls. The majority of children with disabilities are more likely to be abused by someone who is known to them (e.g. family members) compared to children without disabilities (54 – 56). They are also more likely to experience the negative aspects of social networking sites than children without disabilities (57). Bullying is a feature in the lives of many children with disabilities (58,59).
Participating in risky behaviour
Risky behaviour may be in the form of substance misuse, engagement in criminal activity, and sexual risky behaviour including underage sex and teenage pregnancies. There are a number of factors that are associated with the likelihood of participating in risky behaviour including disadvantageous family factors, lifestyle and behaviour factors and school factors (e.g. playing truant or exclusions) (60 – 62). A research conducted on a group of young people aged 13-19 in England who are involved in these types of risky behaviour shows that their participation starts at a young age, and participation in one type of risky behaviour is predictive of later participation in other forms of risk behaviour (63). The research also suggests a strong link between drug-and alcohol-related admissions to hospitals over time. Amongst women, early drug or alcohol admission substantially increases the probability of childbirth aged 17-19. The most common age at which young people first engage in criminal acts like stealing and assault is 13-14 (64).
Missing children and young people/runaways
The terms 'runaway' and 'missing' in this chapter refer to children and young people up to the age of 18 who have run away from their home or care placement, have been forced to leave, or whose whereabouts is unknown (65). It is estimated that around 100,000 children run away each year and two-thirds of them are not reported to the police as missing (66). Girls are more likely to run away than boys and it is more common amongst those aged between 13 and 15, although a quarter will run away before they are 13 and one in 10 before the age of 10 (67). The groups that are more likely to run away include children in care; children who have learning difficulties or disabilities, problems at schools, drugs or alcohol problems or in trouble with the police; and those whose parents' relationships have broken down (68). They may participate in risk taking behaviour like offending and misusing substances and they are also exposed to danger of being physically or sexually abused or exploited) (69 – 71). The research by The Children's Society reveals that one in 12 of the runaways have been hurt or harmed (72).
Living in poverty and homelessness (73)
Living in poverty will have a negative impact on a child's development and academic progress. Children living in poverty are more likely to live in poor housing condition, which will have an impact on their physical and mental health. The impact of the recent welfare reform on child poverty is difficult to predict. However, the changes (ranging from the Household Benefit Cap, to reforms to disability benefits, to freezing annual inflation-based increases in the value of benefits) will reduce incomes for many workless families, especially those unable to move into work. This could entrench existing relative poverty and also increase levels of absolute and severe poverty. Homeless children and young people are more likely to have mental health problems, absent from school due to the disruption caused by moving into and between temporary accommodation, behavioural problems such as aggression, hyperactivity and impulsivity, factors that compromise academic and relationships with peers and teachers.
The level of need in the population
In order to safeguard children and young people in Surrey, it is essential that we understand the varying levels and types of need that they present with which mean that they become known to social care.
MASH
The Surrey Multi-Agency Safeguarding Hub (MASH) is the single point of contact for reporting concerns about the safety of a child, young person or adult. It aims to improve the safeguarding response for children and adults at risk of abuse or neglect through better information sharing and high-quality and timely responses.
The Surrey MASH achieves this by co-locating agencies. It brings together Surrey County Council social care workers for both children and adults, early help services, health workers and police as well as a vast array of virtual partners across Surrey. By being able to share relevant information between the co-located agencies, the MASH aims to identify need, risk and harm accurately to allow timely and the most appropriate intervention. Between 5th October 2016 and 23rd August 2017, the MASH have received a total of 43527 contacts in relation to children.
The table below shows the source of these contacts by percentage and month
Source: Surrey County Council, Tableau, Accessed 18.08.2017 (74)
Over this period, the majority of referrals into the MASH were made by the police, followed by 'other agencies' and the health service.
The outcome of these contacts can be seen in the table below
| | | | | | | | | | | | | |
| --- | --- | --- | --- | --- | --- | --- | --- | --- | --- | --- | --- | --- |
| | Oct | Nov | Dec | Jan | Feb | Mar | April | May | June | July | Aug | Total |
| MASH Enquiry | 64 | 61 | 78 | 51 | 30 | 82 | 67 | 100 | 111 | 107 | 44 | 795 |
| Information and Advice | 1306 | 1805 | 1782 | 2514 | 2420 | 3317 | 2392 | 3026 | 3437 | 2657 | 1191 | 25847 |
| Progress to Early Help | 902 | 845 | 726 | 321 | 642 | 741 | 537 | 708 | 776 | 895 | 393 | 7986 |
| Progress to Children's Social Care | 842 | 1100 | 834 | 995 | 901 | 1114 | 709 | 1081 | 1298 | 1194 | 367 | 10435 |
| Not stated | 366 | 432 | 268 | 342 | 328 | 509 | 264 | 290 | 400 | 376 | 389 | 3964 |
Source: Surrey County Council, Tableau Server, Accessed 18.08.2017 (74)
The majority of contacts were categorised as information and advice (25,847). 10,435 were progressed to children's social care and 7986 were progressed to early help.
Primary Need Identified at Assessment
When a child is assessed by children's social care following a referral via the MASH, the practitioner determines the child's primary need at this first assessment. Only one need can be reported here and the list of primary needs is hierarchical, so in cases where multiple needs are identified, the need highest in the list is reported in the census. The graph below shows the number of children who have been recorded under each primary need for the year 2015/2016 (75).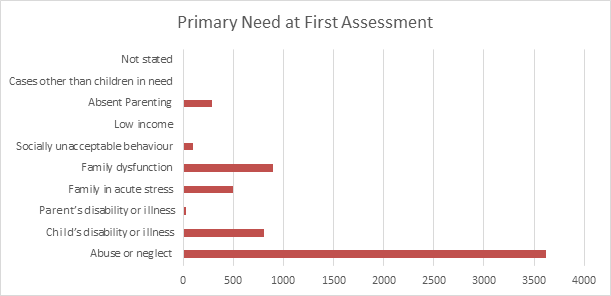 The highest recorded need at the point of the first assessment was abuse or neglect. This was followed by family dysfunction and children's disability or illness as the second and third highest recorded need. There are also primary needs recorded under the categories of 'family in acute stress', 'social unacceptable behaviour', 'absent parenting' and 'parent's disability or illness', although the prevalence of these categories was much lower.
Children in Need
A child in need is defined under the Children Act 1989 as a child who is unlikely to achieve or maintain a reasonable level of health or development, or whose health and development is likely to be significantly or further impaired, without the provision of services; or a child who is disabled.
There were 6,227 children in need in Surrey as at 31 March 2016, of which 58.1% had 'abuse and neglect' as their primary need at assessment and a further 14.3% were recorded under 'family dysfunction'. This compares to national averages of 51% for 'abuse and neglect' and 17% for 'family dysfunction' (75).
The map gives an indication of the concentration of CiN within any district or borough. Spelthorne has a disproportionately high rate of CiN per 1,000 population at 75.9, the next highest rate is significantly lower (by 15.9) in Elmbridge at 60.6 per 1,000 population.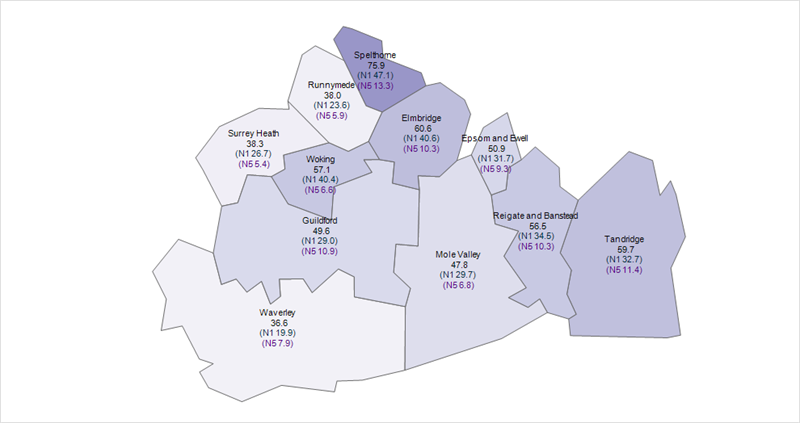 Source: Surrey County Council, Children's Services Commissioning Plan (76)
Overlaid onto the overall CiN rates are the rates for CiN due to abuse or neglect (N1) and CiN due to family dysfunction (N5). The highest rates of abuse and neglect are found in Spelthorne (47.1), Epsom and Ewell (40.6) and Elmbridge (40.4). The highest rates of family dysfunction are in Spelthorne (13.3) and Tandridge (11.4) (76)
Child Protection
If the local authority identifies there is reasonable cause to suspect a child is suffering, or is likely to suffer significant harm, it will carry out an assessment under section 47 of the Children Act 1989 to determine if it needs to take steps to safeguard and promote the welfare of the child. If concerns are substantiated and the child is judged to be at continuing risk of harm then an initial child protection conference should be convened within 15 working days. At the initial child protection conference, the decision will be made as to whether the child needs to become the subject of a child protection plan. When a child becomes the subject of a plan, the initial category of abuse is recorded.
In the year ending 31st January 2016, 1,570 children and young people became subject to a child protection plan. Of the 490 children who started to be looked after during 2015-2016, 55.1% (270) were looked after due to 'abuse and neglect'; 11.2% (55) due to 'family dysfunction', compared to national averages of 54% for 'abuse and neglect' and 9% for 'family dysfunction' (77).
The table below shows Child Protection Plans by the abuse category recorded. It is evident from these statistics that neglect was the most recorded category of abuse for 2015/2016. Emotional abuse is the second most recorded abuse category for Child Protection Plans followed by sexual and physical abuse. There are also some children who have been categorised as 'multi category' indicating that they have experienced two or more of these types of abuse (78).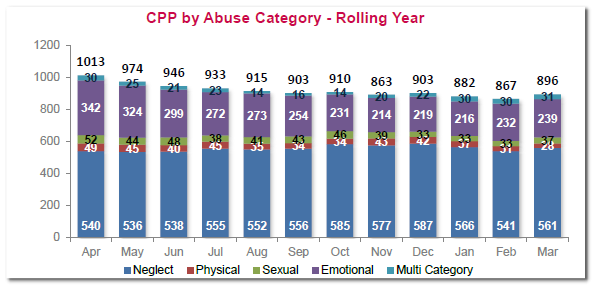 Source: SSCB Annual Report 2015-2016 (78)
Children missing from Care/CSE
Abuse of children under 18 years old through sexual exploitation has increased in England by 56 per cent (from 347 to 541) from 2014/15 to 2015/16. In Surrey, in 2015/16, 153 children were missing from care at some point during the year and there were 733 episodes of a looked after child being missing (79). During the same year 827 children were reported missing from home, with 1,398 episodes reported (79). According to national research, numbers of children and young people reported missing starts to rise sharply from the age of 13; peaking at 15 and then declining throughout the rest of childhood (80).
Before 13 years old the proportion of boys and girls who go missing are broadly similar. However, from 13-17 years old girls are more likely to be reported missing (81). During 2015-16, 340 children were deemed to be at risk of CSE (82). Local data indicates that most identified CSE victims in Surrey (78.8%) are white females aged 14-17 years (83). Nationally, it is estimated that 33% of CSE victims are male, however, figures from our statistical neighbours, Oxfordshire and Essex, also suggest very low numbers of male victims in these counties (84). The main indicator of CSE in boys is going missing and evidence suggests that CSE in boys may be linked to the prevalence of gangs and drug use (85).
Young people who are involved in gangs
There is not a reliable or comprehensive national figure for the number of gangs, or the number of young people involved or associated with gangs in England. In 2015, ONS estimated, using data from the Crime Survey for England and Wales (CSEW), that 0.9% of all children aged 10 to 15 in England and Wales are members of a street gang. Regarding young people aged 16 to 24 years old, 5.4 % of them are estimated to be members of a gang. These percentages were extrapolated using the mid-2015 ONS population data to estimate that approximately 32,517 young people aged 10 to 15 and 13,536 young people aged 16-18 are members of street gangs. Considering the difficulty in capturing a national picture in regards to young people who are involved in gangs, it is important to be aware of the existence of this as a risk to children and young people in Surrey (86).
Child Trafficking
1,278 potential victims of child trafficking were referred to the National Referral Mechanism in 2016. This is a 30 per cent increase on 2015. Where the type of exploitation was known, labour exploitation was the most common, with 37 per cent of referrals 22% CSE. This includes the sub-category of criminal exploitation, such as cannabis cultivation. The most common countries for children to be trafficked from are UK, Albania, Vietnam, Afghanistan and Eritrea.
The National Referral Mechanism received 1,204 referrals of potential victims of child trafficking where the first responder was based in England, 47 from Scotland, 21 from Wales and six from Northern Ireland (87).
Honour based violence
These figures obtained under the Freedom of Information Act from 39 of 52 UK forces, show that from 2010 to 2014 UK police recorded more than 11,000 cases of "honour" based violence. 11,744 incidents and crimes, which include abductions, beatings and even murders. The Metropolitan Police recorded the highest number at 2,188, followed by the West Midlands with 1,269 and Bedfordshire recording 1106 (88). Over the five-year period "honour" based violence cases were recorded in every single UK police force, demonstrating that this is a nation-wide problem.
Female Genital Mutation (FGM)
There are an estimated 137,000 women and girls affected by FGM in England and Wales' (89). In total there have been 137 applications and 113 orders made to safeguard girls from female genital mutilation since their introduction in July 2015 up to the end of March 2017 (90).
Forced Marriage
In January to March 2017, there were 47 applications and 49 orders made for Forced Marriage Protection. Of those applications, 62% of the applicants were aged 17 and under, compared to 34% aged over 17 (90).
In 2016, the Forced Marriage Unit (FMU) gave advice or support related to a possible forced marriage in 1,428 cases. In 2016, the majority of cases 1,145 (80%) involved women victims, while 283 cases (20%) involved male victims. These figures include contact that has been made to the FMU through the public helpline or by email in relation to a new case. Of the cases that FMU provided support to:
– 371 cases (26%) involved victims below 18 years of age; and
– 497 cases (34%) involved victims aged 18-25 (88).
Forced marriage is not a problem specific to one country or culture. Since it was established in 2005, the FMU has handled cases relating to over 90 countries across Asia, the Middle East, Africa, Europe and North America.
In 2016, the FMU handled cases relating to 69 'focus' countries which a victim was at risk of, or had already, been taken to in connection with a forced marriage. The six highest volume countries in 2016 were:
Pakistan – 612 cases (43%)
Bangladesh – 121 cases (8%)
India – 79 cases (6%)
Somalia – 47 cases (3%)
Afghanistan – 39 cases (3%)
Saudi Arabia – 16 cases (1%)
In 2016, 157 (11%) of the cases that were handled by the FMU had no overseas element, with the potential or actual forced marriage taking place entirely within the UK (91).
Services in relation to need.
It is the joint role and responsibility of local authorities, schools, police and health services for safeguarding and child protection. Working Together To Safeguard Children, 2015 (1), clearly outlines that it is everyone's responsibility to help keep children safe. As such, a multi-agency approach to services in relation to safeguarding children is adopted in Surrey.
Surrey Safeguarding Children's Board (92)
The Surrey Safeguarding Children Board (SSCB) is a partnership of all the different organisations working to protect children and young people across the county. The board is made up of all organisations who work to safeguard children and young people in Surrey including Surrey County Council, Surrey Police, the NHS and schools.
It has a number of multi-agency sub groups and work to deliver the board's statutory responsibilities and local priorities.
The objectives of the SSCB as set down in 'Working together to Safeguard Children 2015' are:
to coordinate what is done by each person or body represented on the board for the purposes of safeguarding and promoting the welfare of children in their area; and
ensure the effectiveness of what is done by each such person or body for that purpose.
This entails a wide range of responsibilities across the Surrey area including:
establishing and monitoring thresholds for the provision of services by partner agencies
developing policies and procedures
commissioning and evaluating single and multi-agency training
establishing specific, local protocols to reflect local priorities
communicating and raising awareness
monitoring and evaluating the activities of partners through S11 and auditing activity
reviewing child deaths and conducting serious case reviews.
A variety of training is made available by the Surrey Safeguarding Children's Board in relation to specialist areas such as Child Sexual Exploitation, Female Genital Mutilation, Safeguarding Disabled Children, Child Trafficking and Safeguarding Romani and Traveller Children. (for a full list of specialist training available, please see the SSCB website). There is also more general training available core training in relation to multi-agency safeguarding children and child protection plans and core groups.
SSCB also maintain a procedures manual which has been written in such a way as to encourage closer working between agencies regarding the assessment of need, the planning and the delivery of services. The purpose being that early intervention in a supportive way is likely to be of greater use to the family and child and will avoid the need for a Child Protection Conference and/or Care Proceedings.
The manual reflects current legislation, government statutory guidance and expectations, and accepted best practice.
Surrey Police: (93)
MASH
The MASH is located at Guildford Police Station, where police officers sit alongside social workers, early help services and health workers. This multi-agency approach is designed to strengthen our response in identifying and reacting quickly when a child is at risk of harm.
Child Sexual Exploitation
Operation Makesafe is an initiative focused on ensuring that people working in the business sector are aware of the early warning signs of child sexual exploitation (CSE). Local and national evidence shows that CSE can take place in hotels, pubs, cafés and places licensed to sell alcohol. Taxis can also be used to transport young people who are then exploited. Surrey Police are working to make sure people employed in these environments are able to spot the warning signs and have the confidence to easily report their concerns.
Children's Services Workforce and Caseloads: (94)
In order to safeguard children and young people in Surrey, it is essential that we understand the service that we are able to offer in relation to need. This includes our service demand in relation to workforce numbers and the size of caseloads etc. particularly in comparison to national averages.
Assessment and Intervention Caseloads
There has been a sharp increase in the work coming into the assessment teams in June 2017 which has put the teams under considerable pressure: the number of referrals to the assessment team has resulted in 764 new Children and Family assessments in June compared to 520 in May 2017.This has led to an increase in caseloads in the assessment teams and daily management oversight has been reinforced to manage workload. The national average for all case types is 16.1 cases per Full-time Equivalent (FTE).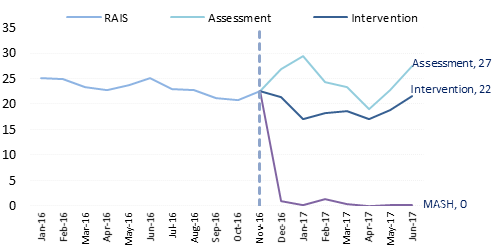 RAIS: referral, assessment and intervention service
Source: Surrey County Council, June Performance Compendium (94)
Children on CP plans: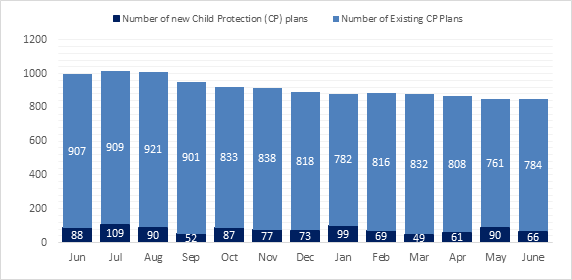 Source: Surrey County Council, June Performance Compendium (94)
The proportion of children with a Child Protection plan remains broadly stable and below comparators. The data shows that 66 new CP plans were started in June 2017, which is 8% of the CP population. Further information about this cohort is required to further understand what the data is telling us.
In June 2017 Surrey's CP rate was 34.1 per 10,000 of the 0-17 population which is the same as the previous month. This compares with national (43), statistical neighbour (38) and South East region (42) rates (100).
Child Protection Caseloads: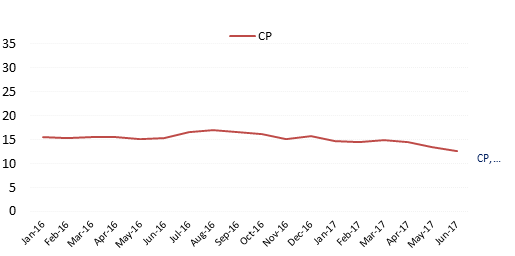 | | | | | | | | | | | | | | |
| --- | --- | --- | --- | --- | --- | --- | --- | --- | --- | --- | --- | --- | --- |
| | Jun | Jul | Aug | Sep | Oct | Nov | Dec | Jan | Feb | Mar | Apr | May | Jun |
| Caseloads – total cases held | 1503 | 1541 | 1548 | 1588 | 1585 | 1537 | 1555 | 1496 | 1464 | 1409 | 1399 | 1296 | 1258 |
| Caseloads – cases per FTE | 15.4 | 16.5 | 16.9 | 16.6 | 16.1 | 15.1 | 15.8 | 14.8 | 14.4 | 14.9 | 14.4 | 13.5 | 12.6 |
Source: Surrey County Council, June Performance Compendium (94)
Average Child Protection caseloads continue to decrease and are below targets. This would suggest that the workforce is able to respond to the levels of need in the population in regards to children who have child protection plans.
Unmet needs and service gaps
Surrey have an increasingly strengthening multi-agency approach to safeguarding children. Need is changing and partners in Surrey must adapt their response in order to safeguard children from a variety of risks.
Data
Work in regards to strengthening our approach to child sexual exploitation, harmful cultural practices, child trafficking and risk of harm via technology, continues to improve. Whilst we have national data in regards to the levels of need in these areas, Surrey's own collection of data in these areas is very limited and more effective partnership working will help to address this. In order to be able to respond to these areas of risk in the most effective way, we need to understand the issues and the level of need within the county.
Assessment and Intervention Caseloads
The caseload numbers of these teams within Surrey Children's Services continue to increase. This puts considerable strain on the workforce and has an impact on their ability to complete robust assessments within timescales.
What works
A system-wide model of restorative and strengths based practice
Underpinning all our work is restorative and strengths based practice with children and families that enables and supports them to overcome and manage the challenges they may face. In Surrey this is called our Safer Surrey approach to practice.
We will commission and deliver restorative and strengths based interventions as part of an ecosystem of support for all children, young people and families in Surrey. This covers universal provision, information and advice, safeguarding, social care and services delivered through partner agencies.
Safer Surrey is our whole-system vision which drives strengths-based practice in Children, Schools and Families (CSF). It is built on the belief that children and families have the strengths, resources and ability to recover from adversities. It relies on us building relationships with families and working with them in a consistently strengths-based way, so that every family has the same positive experience.
We know, from Ofsted, that where Safer Surrey has been embedded there is evidence of greater involvement of children, good decision-making by practitioners and improved outcomes for families.
Although it was developed in Children's Services, the themes of Safer Surrey run through all of CSF. We are building on the adoption of the approach so far, and will be expanding our work with the rest of the service and our partners to make sure Safer Surrey runs through everything we do.
Everyone in Children, Schools and Families is expected to think about how Safer Surrey is relevant to their work. This includes working with our colleagues and managers to start using the approach in everything we do.
Surrey's Early Help Model
The aim of the new service is to integrate and more closely align the support and interventions that will help to build family resilience. Our analysis of need, demand and what works tells us that some families are likely to have better outcomes if we intervene earlier. Designing and delivering a new early help model will be critical to supporting families earlier and achieving key savings in demand reduction and using our resources smartly across the life-course.
The new early help model will bring together a range of services provided by CSF and work together with all partners and the community to deliver holistic, community based, whole family support to people in Surrey. The service will work with children and young people from 0-19 (25) and their families, providing a range of support and interventions that promote resilience and prevent needs from escalating. This will be using a Family Hub approach.
Learning from Serious Case Reviews
The Surrey Safeguarding Children's Board have a 'Learning and Improvement Model' which centres around embedding learning into practice and using systems of evaluation, audit and survey to quantify the impact of learning on practice (95).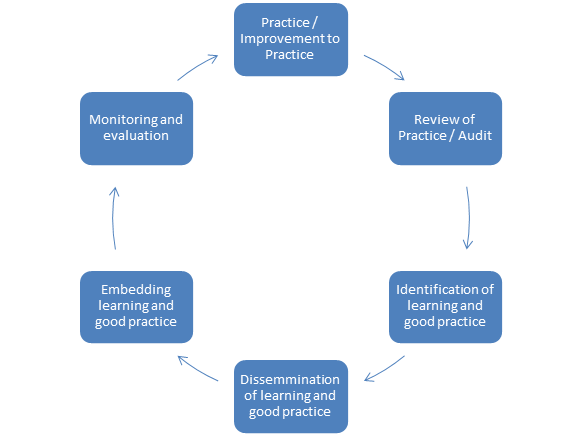 Source: Surrey Safeguarding Children's Board, SSCB Learning and Improvement Model, http://surreyscb.procedures.org.uk/okpth/sscb-learning-and-improvement/learning-and-improvement-framework (95)
Surrey County Council also ensure that Serious Case Reviews are read and analysed regularly to identify key areas of learning and adopt a culture of continuous improvement within the service.
Recommendations for Commissioning
Data improvements
Develop Surrey's data collection methods and ensure better links with other agencies such as the police, who may already hold data in regards to risks such as female genital mutilation and child trafficking.
Improve Surrey's approach to accessing data and continue further analysis work across the council regarding children that are impacted by a range of safeguarding issues, providing a clearer picture of need.
Measuring outcomes
Track long and short term outcomes more effectively to give a better idea as to the impact of intervention and the improvement to outcomes for children and young people.
Working in a more joined up way to develop joint outcomes with multi-agency partners.
Training and Improving Practice
Ensure Social Workers in Surrey are accessing specialist training and modules facilitated by the SSCB, particularly in relation to female genital mutilation, child sexual exploitation, child trafficking and radicalisation to ensure that all workers are able to recognise the signs.
Further developing our Safer Surrey approach and embedding this into our practice.
Key contacts
Surrey County Council
Carl Bussey – Head of MASH
Siobhan Burns – Head of Safeguarding
Ben Byrne – Head of Early Help
Sam Bushby – Assistant Director of Children's Services
Garath Symonds – Assistant Director Commissioning and Prevention
Chapter References
1) Working Together to Safeguard Children, March 2015, Available at: https://www.gov.uk/government/uploads/system/uploads/attachment_data/file/592101/Working_Together_to_Safeguard_Children_20170213.pdf Accessed on 18 August 2017
2) Surrey County Council, Children's Improvement Plan, October 2016, Available at: https://www.surreycc.gov.uk/__data/assets/pdf_file/0019/103294/Childrens-improvement-plan-2016.pdf Accessed on 25 August 2017
3) Surrey Safeguarding Children Board, SSCB Neglect Strategy (2014-2016) Available at: http://www.surreycc.gov.uk/social-care-and-health/childrens-social-care/information-for-child-social-care-professionals/surrey-safeguarding-children-board/about-the-safeguarding-children-board/strategic-documents-safeguarding-children-board Accessed on 10 August 2015
4) Cleaver, H., Unell, I., & Aldgate, J (2011) Children's Needs- Parenting Capacity (Child abuse: parental mental illness, learning disability, substance misuse and domestic violence), 2nd Edition, London: The Stationary Office
5) Moran, P. (2009) Neglect: research evidence to inform practice, Action for Children Consultancy Services
7) Surrey County Council (2014) JSNA Chapter: Young Carers and Young Adult Carers
8) Stanley, N., (2011) Children experiencing Domestic Violence: A Research Review. Totnes: Research in Practice
9) Co-ordinated Action Against Domestic Abuse (2014) In plain insight, the evidence from children exposed to domestic abuse Available at: http://www.caada.org.uk/documents/In_plain_sight_the_evidence_from_children_exposed_to_domestic_abuse.pdf Accessed on 13 August 2015
10) Radford, I., Corral, S., Bradley, C., Fisher, H., Bassett, C., Howat, N., and Collishaw, S. (2011) Child Abuse and Neglect in the UK Today. London: NSPCC Available at:
http://www.nspcc.org.uk/Inform/research/findings/child_abuse_neglect_research_PDF_wdf84181.pdf. Accessed on: 31/10/2013
11) Children Experiencing Domestic Abuse Recovery website- Available at:
http://www.cedarnetwork.org.uk/about/supporting-recovery/impact-of-domestic-abuse-on-children/ Accessed on 13 August 2015
12) The National Police Chiefs' Council (NPCC) – Available at:
http://www.acpo.police.uk/documents/crime/2008/200810CRIHBV01.pdf Accessed on 14 August 2015
13) Coram Children's Legal Centre – Available at http://protectingchildren.org.uk/cp-topics/cultural-themes/forced-marriage/ Accessed on 14 August 2015
14) Kazimirski A, Keogh P, Kumari V, Smith R, Gowland S, Purdon S and Khanum N (2009) Forced Marriage – Prevalence and Service Response. London: Department for Children Schools and Families. Available at: https://www.gov.uk/government/uploads/system/uploads/attachment_data/file/189646/DCSF-RR128.pdf.pdf. Accessed on: 01/07/2013.
15) UNICEF. Statistics by Area: Child Protection. New York: UNICEF. Available at: http://www.childinfo.org/fgmc_progress.html. Accessed on: 01/07/2013.
16) HM Government (2003) Female Mutilation Act Available at: http://www.legislation.gov.uk/ukpga/2003/31 Accessed on: 08/04/2016
17) Department for Education (March 2015) Working together to Safeguard Children: Sexual Abuse Available at
http://www.workingtogetheronline.co.uk/glossary/sex_abuse.html Accessed on 14 August 2015
18) The National Society for the Prevention of Cruelty to Children (NSPCC) website – Available at http://www.nspcc.org.uk/preventing-abuse/child-abuse-and-neglect/child-sexual-abuse/what-is-csa/ Accessed on 14 August 2015
19) Radford, L., Corral, S., Bradley, C., Fisher, H., Bassett, C., Howat, N and Collishaw, S (2011) Child Abuse and Neglect in the UK today. London: NSPCC. Available at:
https://www.nspcc.org.uk/globalassets/documents/research-reports/child-abuse-neglect-uk-today-research-report.pdf Accessed on 17 August 2015
20) Mariathasan, J. (2009) Children talking to ChildLine about sexual abuse. London: NSPCC. Available at http://www.nspcc.org.uk/preventing-abuse/child-abuse-and-neglect/child-sexual-abuse/what-is-csa/ Accessed on 17 August 2015
21) Radford, L., Corral, S., Bradley, C., Fisher, H., Bassett, C., Howat, N and Collishaw, S (2011) Child Abuse and Neglect in the UK today. London: NSPCC. Available at:
https://www.nspcc.org.uk/globalassets/documents/research-reports/child-abuse-neglect-uk-today-research-report.pdf Accessed on 17 August 2015
22) Research in Practice (2014) Children and young people with harmful sexual behaviours Available at: https://www.rip.org.uk/~rip_user/children_and_young_people_with_harmful_sexual_behaviours/files/assets/common/downloads/children_and_young_people_with_harmful_sexual_behaviours.pdf Accessed on 17 August 2015
23) Dagon, D. Preventing Sexual Exploitation. Children and Young People Now. 6-19 March 2012: 36.
24) Pemberton, C. Disturbing signs. Community Care. 2012; 1870: 16-17
25) Dagon, D. Preventing Sexual Exploitation. Children and Young People Now. 6-19 March 2012: 36.
26) Pemberton, C. Disturbing signs. Community Care. 2012; 1870: 16-17
27) Berelowitz, S. et al (2012) "I thought I was the only one. The only one in the world." The Office of the Children's Commissioner's inquiry in to child sexual exploitation in gangs and groups: interim report. London: Office of the Children's Commissioner.
28) Lucy Faithfull Foundation, Stop It Now! The Internet and the Children…what are the problems? Available at: http://www.stopitnow.org.uk/files/stop_booklets_the_internet_and_children_whats_the_problem01_14.pdf Accessed on 17 August 2015
29) The National Society for the Prevention of Cruelty to Children (NSPCC): What is online abuse. Available at:
https://www.nspcc.org.uk/preventing-abuse/child-abuse-and-neglect/online-abuse/what-is-online-abuse/ Accessed on 18 August 2015
30) Lucy Faithfull Foundation, Stop It Now! The Internet and the Children…what are the problems? Available at: http://www.stopitnow.org.uk/files/stop_booklets_the_internet_and_children_whats_the_problem01_14.pdf Accessed on 17 August 2015
31) The National Society for the Prevention of Cruelty to Children (NSPCC): What is bullying-cyberbullying Available at:
https://www.nspcc.org.uk/preventing-abuse/child-abuse-and-neglect/bullying-and-cyberbullying/what-is-bullying-cyberbullying/ Accessed on 18 August 2015
32) Prime Minister's Office (2013) Tackling extremism in the UK: Report from the Prime Minister's Task Force on Tackling Radicalisation and Extremism. London: Prime Minister's Office. Available at:
https://www.gov.uk/government/publications/tackling-extremism-in-the-uk-report-by-the-extremism-taskforce Accessed on 18 August 2015
33) Public Health England (2013) Substance Misuse Among Young People in England 2012-13
34) Home Office (2005), Drug use among vulnerable groups of young people: findings from the 2003 Crime and Justice Survey 2005. Available at:
http://webarchive.nationalarchives.gov.uk/20110218140603/http:/rds.homeoffice.gov.uk/rds/pdfs05/r254.pdf Accessed on 18 August 2015
35) Velleman, R. (2002) The Children of problem drinking parents: An Executive summary, Executive Summary Series; Centre for Research on Drug and Health Behaviour, Executive Summary 70, 1 -5.
36) Surrey County Council (2014) JSNA Chapter: Substance Misuse. Available at:
/jsna/substance-misuse/ Accessed on 18 August 2015
37) Royal College of General Practitioners (2012) Practice Standards for Young People with Substance Misuse Problems. London: Royal College of Psychiatrists Centre for Quality Improvement. Available at: http://www.rcpsych.ac.uk/pdf/Practice%20standards%20for%20young%20people%20with%20substance%20misuse%20problems.pdf Accessed 21 August 2015
38) Chief Medical Officer (2009) Guidance on the consumption of alcohol by children and young people. London: Department of Health
39) Surrey County Council (2014) JSNA Chapter: Substance Misuse. Available at:
/jsna/substance-misuse/ Accessed on 18 August 2015
40) Green, H., McGinnity, A., Meltzer, H., Ford, T and Goodman, R (2005) Mental Health of Children and Young People in Great Britain, 2004. National Statistics
41) Department of Health (2008) Children and young people in mind: the final report of the National CAMHS Review http://webarchive.nationalarchives.gov.uk/20130107105354/http:/www.dh.gov.uk/en/Publicationsandstatistics/Publications/PublicationsPolicyAndGuidance/DH_090399 Accessed on 18 August 2015
42) HM Government (2010) Healthy Lives, Healthy People: Our strategy for public health in England, London: TSO
43) Department of Health (2008) Children and young people in mind: the final report of the National CAMHS Review Available at: http://webarchive.nationalarchives.gov.uk/20130107105354/http:/www.dh.gov.uk/en/Publicationsandstatistics/Publications/PublicationsPolicyAndGuidance/DH_090399 Accessed on 18 August 2015
44) Centre for Mental Health (2009): Childhood mental health and life chances in post-war Britain: Insights from three national birth cohort. Available at: http://www.centreformentalhealth.org.uk/childhood-mental-health-and-life-chances Accessed on 21 August 2015
45) Goodman A, Joyce R, smith JP (2011): The long shadow cast by childhood physical and mental health problems on adult life. Proceedings of the National Academy of Sciences USA, 108(15): 6032-6037 Available at:
http://www.ncbi.nlm.nih.gov/pmc/articles/PMC3076863/ Accessed on 21 August 2015
46) Surrey Safeguarding Children Board (2009) Safeguarding Disabled Children and Young People: Practice Guidance for All Agencies
47) Jones, L., Bellis, M.A., Wood, S., Hughes., et al (2012) Prevalence and risk of violence against children with disabilities. Centre for Public Health, Liverpool John Moores University, Liverpool, UK
48) Spencer, N., Devereux, E., Wallace, A., Sundrum, R., et al (2005) Disabling conditions and registration for child abuse and neglect: a population based study. Pediatrics 116, 3, 609-613
49) Sullivan P.M., and Knutson J.F. (2000) Maltreatment and disabilities, a population based epidemiological study. Child Abuse and Neglect 24, 10, 1257-1273
50) Surrey Safeguarding Children Board (2009) Safeguarding Disabled Children and Young People: Practice Guidance for All Agencies
51) Department for Children, Schools and Families (2009) Safeguarding disabled children: practice guidance. DCSF Publications
52) Kvam, M.H. (2004) Sexual abuse of deaf children. A retrospective analysis of the prevalence and characteristics of childhood sexual abuse among deaf adults in Norway. Child abuse and neglect 28,3,241-251
53) Briggs, F (2006) Safety issues in the lives of children with learning disabilities. Social Policy Journal of New Zealand 29.
54) Fisher, M.H, Hodapp, R.M. and Dykens, E.M. (2008) Child abuse among children with disabilities: what we know and what we need to know. International Review of Research in Mental Retardation 35, 251-289
55) Hershkowitz,I., Lamb, M.E and Horowitz, D (2007) Victimization of children with disabilities. American Journal of Orthopsychiatry 77, 4, 629-635
56) Sullivan P.M., and Knutson J.F. (2000) Maltreatment and disabilities, a population based epidemiological study. Child Abuse and Neglect 24, 10, 1257-1273
57) Kvam, M.H. (2004) Sexual abuse of deaf children. A retrospective analysis of the prevalence and characteristics of childhood sexual abuse among deaf adults in Norway. Child abuse and neglect 28,3,241-251
58) Hershkowitz,I., Lamb, M.E and Horowitz, D (2007) Victimization of children with disabilities. American Journal of Orthopsychiatry 77, 4, 629-635
59) Claire Lilley, Ruth Ball and Heather Vernon (2014) The experiences of 11-16 year olds on social networking sites, National Society for the Prevention of Cruelty to Children (NSPCC)
60) Mencap (2007) Bullying Wrecks Lives: The experiences of children and young people with a Learning Difficulty. London: Mencap.
61) Reid, B and Batten, A. (2006) B is for Bullied: The experiences of Children with Autism and Their Families. London: The National Autistic Society.
62) Barnes, M., Green, R. and A. Ross (2011), Understanding vulnerable young people: Analysis from the Longitudinal Study of Young People in England, Department for Education Research Report DFE-RR118.
63) Green, R. and A. Ross (2010) Young people's alcohol consumption and its relationship to other outcomes and behaviour. Department for Education Research Report DFE-RR005.
64) Hales, J., Nevill, C., Pudney, S. and Tipping, S. (2009), Longitudinal analysis of the Offending, Crime and Justice Survey 2003–06, Home Office Research Report 19.
65) Department for Education (2013) Reducing risky behaviour through the provision of information. Institute for Fiscal Studies https://www.gov.uk/government/uploads/system/uploads/attachment_data/file/221776/DFE-RR259.pdf
Accessed on 24 August 2015
66) Department for Education (2013) Reducing risky behaviour through the provision of information. Institute for Fiscal Studies https://www.gov.uk/government/uploads/system/uploads/attachment_data/file/221776/DFE-RR259.pdf Accessed on 24 August 2015
67) Department for Children, Schools and Families (2009) Statutory guidance on children who run away and go missing from home and care. London: HM Government
68) Rees, G & Lee, J (2005) Still Running II: Findings from the Second National Survey of Young Runaways. London: The Children's Society.
69) The Children Society (2011) Make Runaways Safe. Available at:
http://www.childrenssociety.org.uk/sites/default/files/tcs/u32/make_runaways_safe_summary_0.pdf Accessed on 22 August 2015
70) The Children Society (2011) Make Runaways Safe. Available at:
http://www.childrenssociety.org.uk/sites/default/files/tcs/u32/make_runaways_safe_summary_0.pdf Accessed on 22 August 2015
71) The Children Society (2011) Make Runaways Safe. Available at:
http://www.childrenssociety.org.uk/sites/default/files/tcs/u32/make_runaways_saf`e_summary_0.pdf Accessed on 22 August 2015
72) Child Exploitation and Online Protection Centre (CEOP) (2011) Out of mind, out of sight: breaking down the barriers to child sexual exploitation: executive summary. London: CEOP. Available at: https://www.ceop.police.uk/Documents/ceopdocs/ceop_thematic_assessment_executive_summary.pdf Accessed on 17 August 2015
73) Surrey County Council (2011) JSNA Chapter: Child living in poverty.
74) Surrey County Council, Tableau Server, Accessed on 25 August 2017
75) DfE (2016) Statistical First Release SFR 52/2016: Characteristics of children in need: 2015 to 2016. Department for Education; London. Available at: https://www.gov.uk/government/statistics/characteristics-of-children-in-need-2015-to-2016. Accessed on: 15/12/2016
76) Surrey County Council, Commissioning plan 2017-2022 Accessed on 17 August 2017
77) DfE (2016) Statistical First Release SFR 41/2016: Children looked after in England including adoption: 2015 to 2016. Department for Education, London. Available at: https://www.gov.uk/government/statistics/children-looked-after-in-england-including-adoption-2015-to-2016. Accessed on: 08/12/2106.
78) Surrey Safeguarding Children's Board, SSCB annual report 2015/2016, Available at: http://www.surreyscb.org.uk/wp-content/uploads/2016/05/SSCB-Annual-Report-2015-2016-Final-Oct-2016.pdf Accessed on 22 August 2017
79) FROM ADCS RETURN
80) Biehal, N, Mitchell F, and Wade J (2003) Lost from View, (Bristol: The Policy Press)
81) Rees, Gwyther (2011) Still Running III: Early findings from our third national survey of young runaways, (London: The Children's Society)
82) FROM ADCS RETURN
83) Surrey County Council (2014) Child Sexual Exploitation Needs Assessment 2016. Surrey County Council, Kingston. Available at: https://www.surreyi.gov.uk/dataset/child-sexual-exploitation-needs-assessment-2016. Accessed on: 13/12/2016.
84) Surrey County Council (2014) Child Sexual Exploitation Needs Assessment 2016. Surrey County Council, Kingston. Available at: https://www.surreyi.gov.uk/dataset/child-sexual-exploitation-needs-assessment-2016. Accessed on: 13/12/2016.
85) Surrey County Council (2014) Child Sexual Exploitation Needs Assessment 2016. Surrey County Council, Kingston. Available at: https://www.surreyi.gov.uk/dataset/child-sexual-exploitation-needs-assessment-2016. Accessed on: 13/12/2016.
86) Children's Commissioner, Estimating the Number of Vulnerable Children, Technical Paper 6 in Children's Commissioner Project on Vulnerable Children, Alma Economics, July 2007, Available at: https://www.childrenscommissioner.gov.uk/wp-content/uploads/2017/07/CCO-TP6-Headline-Numbers-Alma-1.pdf Accessed on 17 August 2017
87) NSPCC, How safe are our children? The most comprehensive overview of child protection in the UK, 2017, Available at: https://www.nspcc.org.uk/globalassets/documents/research-reports/how-safe-children-2017-report.pdf Accessed on 17 August 2017
88) Iranian and Kurdish Women's Rights Organisation, NEW RESEARCH REVEALS: In only five years, police record more than 11,000 'honour' based violence cases, Available at: http://ikwro.org.uk/2015/07/research-reveals-violence/ Accessed on 17 August 2017
89) City University London, Prevalence of Female Genital Mutilation in England and Wales: National and local estimates, July 2015, Available at: https://www.city.ac.uk/__data/assets/pdf_file/0004/282388/FGM-statistics-final-report-21-07-15-released-text.pdf Accessed on 17 August 2017
90) Ministry of Justice, Family Courts Statistics Quarterly Report England and Wales January to March 2017:Available at https://www.gov.uk/government/uploads/system/uploads/attachment_data/file/638330/fcsq-jan-march_2017.pdf Accessed on 17 August 2017
91) Home Office, Forced Marriage Unit Statistics 2016, 9th March 2017, Available at: https://www.gov.uk/government/uploads/system/uploads/attachment_data/file/597869/Forced_Marriage_Unit_statistics-_2016.pdf Accessed on 17 August 2017
92) Surrey Safeguarding Children's Board, http://www.surreyscb.org.uk/ Accessed on 24 August 2017
93) Surrey Police, https://www.surrey.police.uk/advice/protect-yourself-and-others/child-protection/child-sexual-exploitation/ Accessed on 23 August 2017
94) Surrey County Council, June Performance Compendium, Accessed on 23 August 2017
95) Surrey Safeguarding Children's Board, SSCB Procedures Manual, Available at http://surreyscb.procedures.org.uk/ Accessed on 17 August 2017