Data included: 2012-2020. England, South East, Surrey, LAs, Wards, LSOAs, CCGs.
Surrey-I also includes summaries and data about population projections, population density, and estimates for births, deaths, and migration.
Summary
The most recent population estimates are for 2020 in which 1,199,870 people live in Surrey. The population of Surrey rose by 3,634 from 2019 to 2020, an increase of 0.3% (0.5% for England).
Surrey has a slightly older population than England with an average (median) age of 42.3 compared to 40.2. Guildford and Runnymede have the lowest average ages at around 37, while Mole Valley has an average age of over 47. An interactive version on the figure below is available for each local authority in Surrey here. The age distribution in Surrey for 2020 shows that there are larger numbers of residents between the ages of 40 to 59 compared to those aged 20 to 34.
The age distribution of the 2020 Surrey population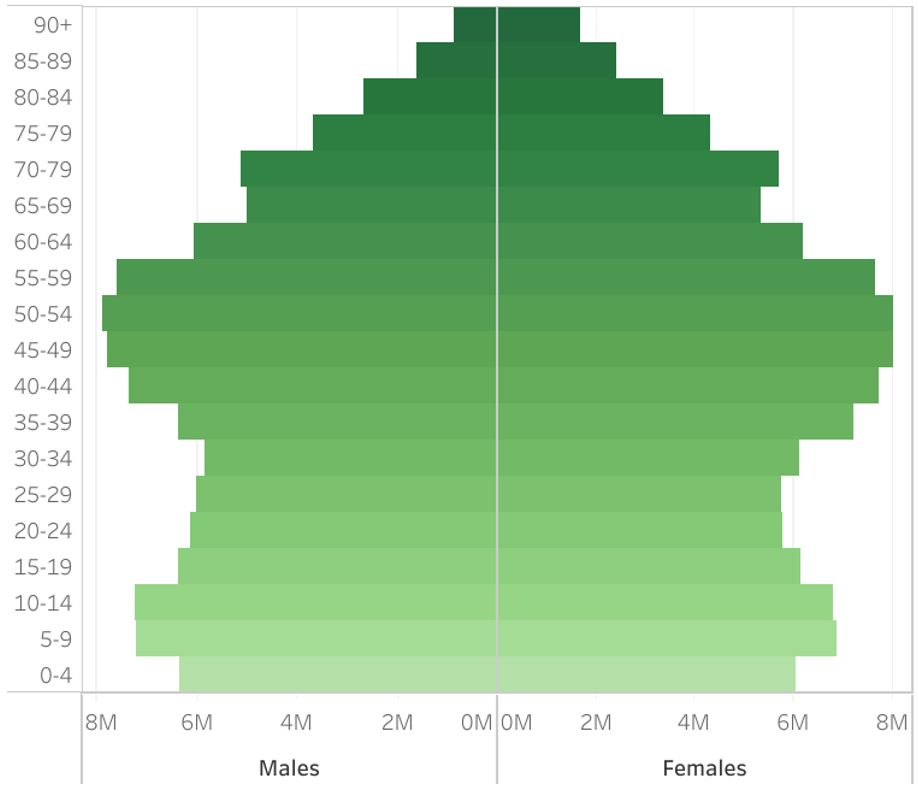 Maps of the proportion of the population by age category have been produced across Surrey at the local authority and ward levels; the full interactive maps are available here. The age categories included in this interactive version are 0-17, 0-4, 5-11, 12-17, 18-64, 65+, 65-74, 75-84, and 85+. The interactive maps also include the percentage of males or females in the population.
This summary will present just some of these maps.
Although Guildford has one of the overall lowest proportions of the population under the age of 18 at 20%, there are wards which have relatively high young persons such as Burpam having 26% of residents under-18.
The percentage of residents aged 0 to 17 in Surrey wards, 2020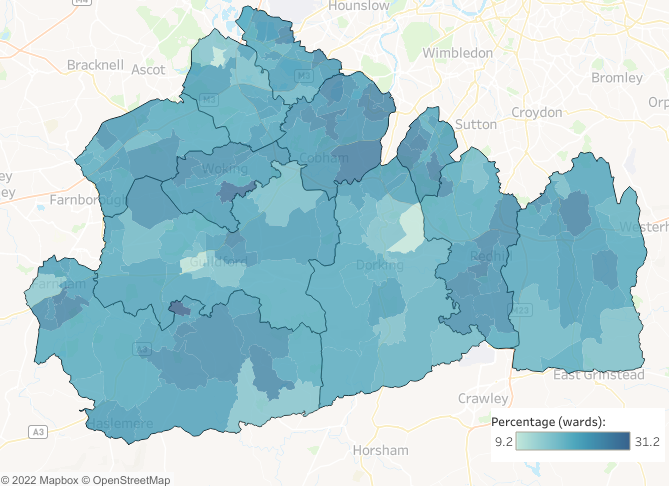 Englefield Green East in Runnymede and Onslow in Guildford have the highest proportions of the population at working age (18-64) at over 82%.
The percentage of residents aged 18 to 64 in Surrey wards, 2020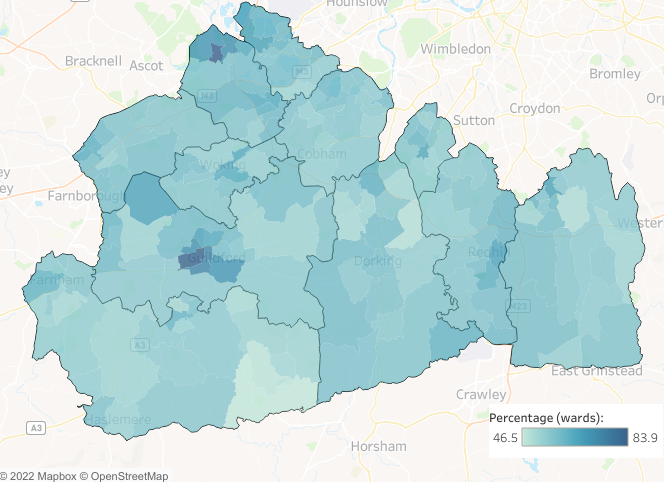 Mole Valley has the highest overall proportion of residents over the age of 65 at 24%. Over 15% of people who live in Box Hill and Headley in Mole Valley are between the ages of 75 and 84. Around 22% of Waverley residents are over the age of 65. Over 1 in 10 people who live in Alfold, Cranleigh Rural and Ellens Green in Waverley are over the age of 84.
The percentage of residents aged 85 and over in Surrey local authorities, 2020