This page includes a summary of pensioners in poverty (on Pension Credit) across Surrey geographies and the downloadable data.
Data included: England, South East, Surrey, Surrey LAs, LSOAs.
Latest data included: 2018 to Nov-2021.
A summary of low income and unemployment in Surrey can be found on Surrey-i here.
A summary which focuses on child poverty and disadvantage in Surrey can be found on Surrey-I here.
A summary on fuel poverty in Surrey can be found on Surrey-i here.
Pension Credit gives those of State Pension pension age extra money to help with their living costs if they're on a low income. Pension Credit can also help with housing costs such as ground rent or service charges. Persons may receive extra help if they're a carer, severely disabled, or responsible for a child or young person. Pension Credit is separate from State Pension. Recipients can get Pension Credit even if they have other income, savings or their own home.
As of 2022, Pension Credit tops up weekly income to £182.60 if you're single and joint weekly income to £278.70 if you have a partner. Persons may get extra amounts if they have other responsibilities and costs. The top up and extra amounts are known as 'Guarantee Credit'.
Persons could get the 'Savings Credit' part of Pension Credit if they reached State Pension age before 6 April 2016 AND saved some money for retirement, for example a personal or workplace pension. Persons can get up to £14.48 Savings Credit a week if they're single and up to £16.20 a week if they have a partner. Persons may still get some Savings Credit even if they do not get the Guarantee Credit part of Pension Credit.
Summary
The prevalence of low-income older residents ranges from 7.6 per cent in Runnymede and 7.5 per cent in Spelthorne to 5.3 per cent in Surrey Heath and Mole Valley (November 2021). Compared to England and the South East, Surrey has a lower proportion of older residents who are in poverty; 6.1 per cent of persons aged 65 and over are in receipt of pension credit in Surrey compared to 8.3 per cent in the South East and 11.4 per cent in England (November 2021). Nonetheless, the 6.1 per cent of pensioners who are in poverty in Surrey represent 14,048 Surrey residents.
The rate of those aged 65 and over on pension credit has been mapped at small areas across Surrey in an interactive map where you can zoom in to see your local area. While the majority of Surrey has low percentages of pensioners who are in poverty, certain areas have much higher percentages which are even greater than the English average. The LSOA with the highest prevalence of pensioners in poverty (34.9%) is in the centre of Woking (LSOA Woking 004A) and four of the five highest LSOAs are in Woking. The second highest LSOA is in Elmbridge (014F) at 31.1 per cent.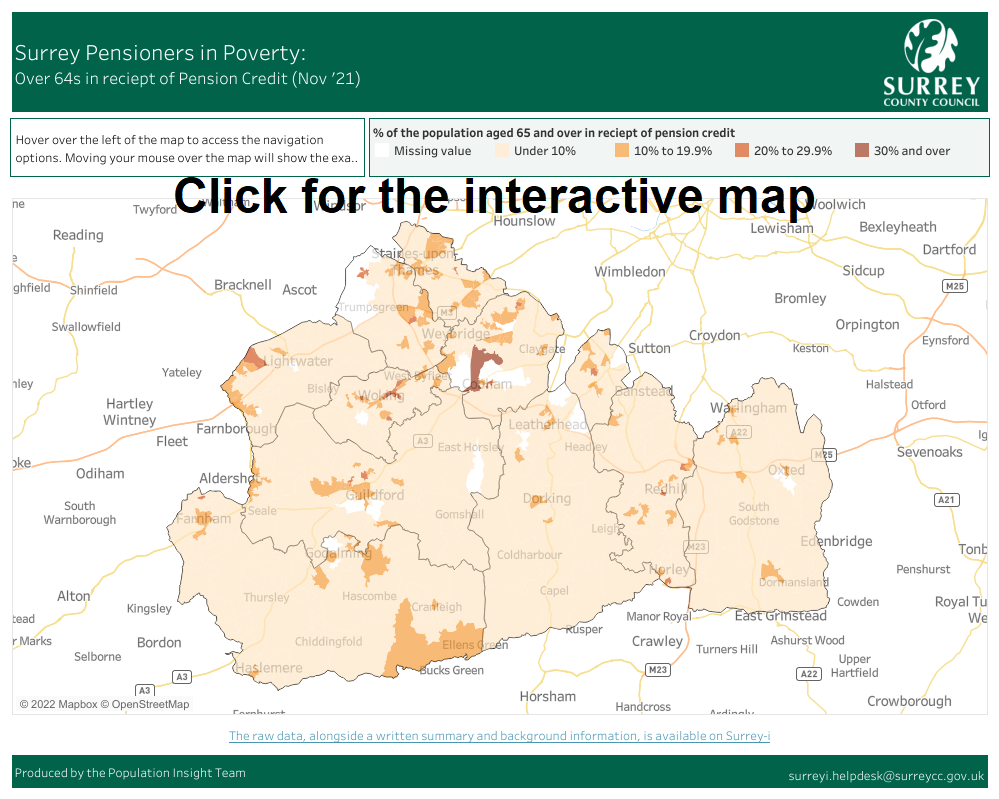 A higher proportion of Surrey women are in receipt of pension credit at 7.6 per cent compared to Surrey men at 4.3 per cent. Female recipients are also more likely to have no partner (95.5%) compared to male recipients (71.1%).
In Surrey, over half of pensioners in poverty only receive Guarantee Credit (56%), 15 per cent receive just Savings Credit, and nearly a third (29%) receive both Guarantee and Savings Credit as part of their Pension Credit.
Disclosure control has been applied. Totals may not sum due to rounding.
Reference links:
This data was accessed from Stat-Xplore and was originally produced by the Department for Work and Pensions.
The 2020 population estimates were used to calculate the rates for 2020 and 2021.